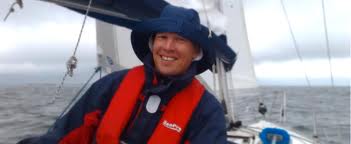 Live Connected
Offshore yet smiling with the confidence of HF, VHF, and/or satellite connections to family, friends, safety and perhaps even...work!
Want to know more about communications at sea for blue water cruisers and off shore boating?

Download Staying in Touch Offshore. It's the free GMN Guide to Blue Water Cruising Communications: How to stay in touch with the family, friends and information you need through radio and satellite voice, email and Internet services while at sea - a fast, fun and friendly overview.

In it you will learn:
How to stay in touch with friends, family and business while on the water.
The benefits and limitations of HF/VHF Radios and Satellite Phones.

Comparisons of HF Radios and Satellite Phones.

Using satellite data services for email, web and weather.
Sample handheld satellite phone and broadband systems that meet crusiers'ocean-going needs.
This clear, straightforward paper describes options in terms of real life communication needs at sea.

Here's the contents:
Offshore...Yet in Touch
Types of Communications
Radio Communications
Satellite Communications
Satellite Services
Satellite Phone Email Service
Web Browsing
Weather/oceanographic Data
Satellite Equipment
Handheld Sampe Setup
Further Information
Fill out the form on your right and download the paper to read now or at your future convenience.